© 2014 Mister Chlorinator Company, Inc.

All rights reserved.

488 Weatherby Trail, Prattville, AL  36067 | email: info@misterchlorinator.com | call: (334) 490-7804

Authorized Service Contractor of Wallace and Tiernan Products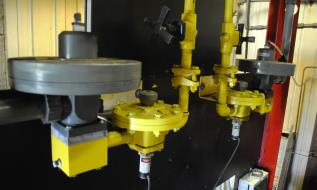 We are proud to be an authorized service contractor of Wallace & Tiernan, the first and most reputable chlorination equipment system established in 1913. 

Mister Chlorinator Company provides new installations, services and repairs on all Wallace & Tiernan equipment, but offer a range of services on all brands of chlorinator systems.


We specialize in the sales of Siemens/Wallace  & Tiernan parts and equipment, but here are some of the other reputable manufacturers we offer parts and equipment from:

Call us today for a free consultation and we will help you determine what equipment would be best for your application. 

We keep in stock for immediate shipment most maintenance kits and servicable parts for immediate repairs. 

Please ask us about our Partners in Service contracts, our unique service contracts that can get you up and running with quality equipment today at a very affordable cost.  We will help to ensure that only the highest standards of water purification are met at your waste and wastewater facility.